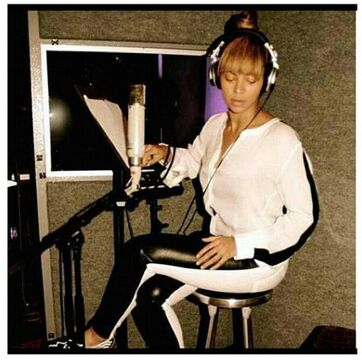 Stephanie Fierce
(born February 14, 1986)
is an American singer-songwriter, musician, host, businesswoman and producer. Born in Puerto Rico and raised in New York, Stephanie first appeared on a Star Search talent show held by Fierce Music Label, and was signed by the major record label in 2007. Stephanie Fierce was given limited time to record her very rushed debut album "Stephanie Fierce: The Past, The Present and the Future Of Pop" which was released only in the US in 2008. The album did not reach commercial successful at first with the lack of promotion provided by the label. Fierce originally signed a two album/4 year contract with Fierce Music Label. However, the label went into legal issues that cut out all the contracts the label had with all artists. Fierce then decided to go independent and record an EP self titled
"Stephanie Fierce"
which was later used as a demo for many record Labels. V-Records and Spice Records picked up the demo and thought Stephanie Fierce had raw talent and she went on to be signed by V-Records becoming the very first pop artist to do so. Within a month later Spice Records worked a deal with V-records to co-sign Stephanie Fierce. Stephanie Fierce managed to open for GirlSpice on their "One Last Goodbye Tour", already guaranteed interest by many. The success continued with the re-release of her debut album
"The Past, The Present and the Future of Pop"
on September 1, 2009 with both labels backing the album. The album managed to sell over 3,200,000 becoming a huge success and one of the best selling debut album of all time. The album spawned hit singles such as "Hot shot feat. The Rockers", "Where I Belong" and "Toy Soldier." With the album, Stephanie Fierce also managed to build a personality, style and music form know as being Fierce.
Stephanie Fierce's success only kept increasing with the release of her second studio album "Diary Of A Pop Sinner". With the recordings of "DOAPS" Steph took over as a solo writer and producer. The title "Pop Sinner" refers to the believe that Stephanie Fierce is not a princess of pop and that she breaks the rules of pop. The album spawned many hit singles including worldwide hit "Love Feel Like Grenades feat. GirlSpice" and "Sweaty Nights". Sales for the album have reached over 9 Million worldwide becoming Stephanie's best selling album to date. Aside from getting positive reviews from top critics, The album managed to win Steph two awards at the IMA's/Birdies, one for Best Album and another for Best Solo Artist. The only Pop album to make that achievement. The album is considered one of the best pop albums in history. The album made Rolling Stone's list of Best Pop Albums in the last decade at #1.
Stephanie Fierce kept progressing with self-titled third studio album "Stephanie Fierce" which sold an additional 4.5 million copies worldwide. However the album is considered "critically underrated". The album seeks a more rock oriented sound with less mainstream appeal. Critics praised Stephanie Fierce's lyrics as well as her raw vocals. The album saw success with singles such as "The Bitch" and "Destruction feat. The Nimrods". After the release of the third studio album, Fierce finished her contracts V-records & Spice Records, and decided to move on to bigger things. She is now owner of new rising label "Hot Eye Records". Stephanie Fierce maintained a strong relationship with both labels.
Stephanie Fierce was also involved on a side project with married husband Johnny Johnson known as Savior. The band does not seek mainstream success and albums are released independently. Only two albums feature vocals by Stephanie Fierce.
Her fourth studio album "Newborn" was released February 14, 2011. The album showcases Stephanie Fierce's growth over the past years as both a producer and a songwriter. So far critics who've listen to the album, consider it Steph's most innovative album to date. With the perfect balance of pop and lyrical substance. Weeks after the album was announced, Steph took the opportunity to announce her pregnancy. "Crucifixion on an Innocent (Suffer)" reached #1 on the Top 20 Airplay Charts. Other single releases include "Heart & Salt", "Don't Drop The Soap" and "Immune".
To date Stephanie Fierce has sold over 200 Million Records (digital and physical album, CD, DVD, ringtones, song, single sales combined). She's a three time Birdie/IMA winner (The first and only pop act to win "Best Album") and is a pop artist like no other.
On May 28, 2011, Stephanie Fierce released information on her fifth studio album "Free". Fierce described the album as "psychological" in the form of a letter; claiming:
"In the whole creation process, I feel like a blind protagonist, who sort of develops a new sense, while strengthening the other ones as well. This is in no shape or form a pop album. This album is not something you can really get into, but more like really get out of. I say that with confidence. It's not for the fact that I'm becoming anti-pop or that that I'm now trying to not have a commercial album. It's simply just not a pop album. The idea at first was to create a dance album, but I scrapped it, simply because I changed my mind. I felt that this album is much more than some dance album. It goes way beyond that. I'm not indicating that it's still a dance album. You can dance to a beat, but you cannot dance to this. You have to sit down and think it through
The biggest challenge in this album was going inside my head, and portraying exactly what I was thinking. I think that's the challenge that everyone experiences, period. But this piece of art is complex, because it's not delusional and you quickly become disgusted by it. So basically my mind is placed under a microscope. My thoughts….. I don't expect anyone to relate to it. It's almost like a trip through yourself, through myself."
"Dying in the Airwaves", the album's lead single, went #1 on both the Digital Songs/Airplay Charts. Other singles release were "In Love Alone", "Electric Guitar Virgin", "Tequila Shower" and "Dear Producer, Stephanie Sampled a Tree".
On August 2011, Stephanie Fierce began writing and recording her sixth and seventh studio albums. On October 19, 2011, the album's title; "Life's Good" was unveiled. The LP was released on January 29, 2012 with Liberation/Nomad Records. Despite debuting at a shocking "#20", the record was able to climb to #1 for two non-consecutive weeks and managed to sell over 4,500,000 copies in the course of 7 months. The first single "Life's Good feat. Ryan Ross Hernandez" went #1 on the Airplay charts. "Back To Fierce" also managed to go #1 on the Airplay charts and Dance Songs chart. The song also earned Stephanie a Chaos Awards for "Best Single". "Lead Me To Your Heart" managed to go #1 on the Digital songs chart and Rock songs chart. "As it Ends" managed the Top 10 on the "Airplay Charts". "Keep You In a Collar" managed to reach the Top 5 on the Digital Songs Chart. On May 21, 2012 Stephanie Fierce announced that she will soon be going on a music hiatus after the release of her seventh studio album. "Love is Lust", the seventh studio album was released worldwide on July 8, 2012. On July 1t, Stephanie Fierce released a set of promotional singles which included "Love is Lust", "Sent a Bullet", and "Whore", which premiered on Rolling Stone's website. That same day Fierce released the lead single off her album "Slap My Bass" on her official site. Alongside a music video, the song managed to go #3 on the Airplay Charts and #4 on the Digital Songs Chart. "U and I = Suicide feat. Glamazon & Electrodeath" was released as the albums second single on July 15, 2012. The song reached #1 on the Digital Songs Chart. "Parasite" was then released as a promo video single. The album has sold over 500,000 copies to date.  To date Stephanie Fierce has sold over 200 Million Records (digital and physical album, CD, DVD, ringtones, song, single sales combined). She's a three time Birdie/IMA winner (The first and only pop act to win "Best Album") and a three time Chaos Awards winner.
Child Hood/Teen Years
Edit
Stephanie grew up in the projects of New York City and Manhattan. She originally lived in Puerto Rico, and after 11 rough years moved to New York with little or no English known whatsoever. Stephanie was always teased for her English and Latino accent. Stephanie never took it to heart but instead took it to make her stronger. After many years, Steph quickly let go of the accent, which surprisingly didn't stuck with her. Stephanie Fierce learned English rather quickly and was often tutored by her father (Emmanuel Rios). She was always driven to improve in something and that drove her to be the best she could be, making her really successful. As a child Steph was also trained by her father to become an entertainer and perfomer. Steph took various music lessons from her father and learned how to play the piano, read music and sing. Stephanie Fierce attended all four years at Seward Park High School and now is a special Alumni there. All four years. Steph took AP level music courses. Ranging from "Music Appreciation" to "Music Theory". A picture portrait of Stephanie Fierce was placed and can be seen at the front office of the school today.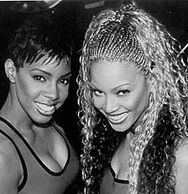 According to her friends, Stephanie was always outgoing, and brave. Fierce would be the one who loved to get on stage and hog the microphone to sing songs by current rock/pop legends in her own time. While her mother always warned Steph about fame, her own mother's career failures led Steph to feel quilty about wanting to become famous. Steph always believed that her mother would one day see her perfomring in front of thousands and claimed it day after day.
At the sad age of 18 years right before her big break, her mother was gunned down near a bank, and passed away. This lead Stephanie to change her last name into "Fierce" paying a tribute to her own strenght as a person and as a woman.
Personal Life
Edit
In December 2007, Stephanie Fierce began dating country singer Silver Spoons. They ended their relationship early 2008. In 2008, Stephanie Fierce began dating long time collaborator Johnny Johnson. The two confirmed their relationship later on, and married at the peak of 2009.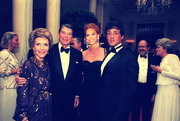 In July 2010, Stephanie Fierce announced that she and Johnny were pregnant. They gave birth to Helle in January 2011. A month afterwards. Stephanie Fierce unvelied in an interview that they weren't "communicating". The following month, Steph announced her divorce with Johnny Johnson.
In November 2011, Stephanie Fierce confirmed her relationship with Nicolas Brown. In August 2012, Stephanie and Nicolas Brown married only to divorce two months after. 
On December 2012, Stephanie confirmed that she reunited with Johnny Jonson. 
Previous Label
Edit
Stephanie first signed with FML Records in 2005 after a contract seeker saw Stephanie Fierce performing at the talent search they held that year. The Contract was initially meant to be 4 long years but Fiece Music Label faced various legal issues, eventually going into bankruptcy and ended its activity. Artists signed, including Steph had to leave the label and end their contracts. Stephanie has stated that working with Fierce Music Label was the "worst experience" a hungry artist could experience, but thought her a lot about the industry itself. She then managed sign on a dual contract deal with V-Records and Spice Records (respectably). She became the very first Pop Artist to get sign with V-Records.
Music & Voice
Edit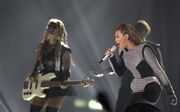 Fierce possesses a three and a half octave vocal range. Christopher Wallas of The Times commented that she has the voice that defines her sound. Linda Fea of Pop Wiz called her voice distinctive and fast, with almost hiccuping vocal technique. Other critics praise her range and power. In reviewing her second album Diary of A Pop Sinner, Jody Rosen of Entertainment Weekly writes "Stephanie Fierce is a storm system disguised as a singer. On her second solo album, DOAPS, the songs arrive in huge gusts of rhythm and emotion, with Fierce's voice rippling over clattery fierce beats; you'd have to search far and wide — perhaps in the halls of the Metropolitan Opera — to find a vocalist who sings with more sheer force...No one — not Madison O'Leary, not Ryan Ross Hernandez, to say nothing of her rival pop divas — can match Fierce's genius for dragging her vocal lines against a fierce beat." Chris Richards of the Washington Post writes, "Even when she's coasting, she soars above her imitators. It's all in her voice—a superhuman instrument capable of punctuating any beat with goose-bump-inducing whispers or full-bore diva-roars. Smitten, scorned, amorous, antagonistic—Fierce sings from all of these vantage points with undeniable virtuosity."
Fierce's music is generally Pop, but she also incorporates rock, electronica, ambient, alternative instrumentation and soul genres into her work. While she almost exclusively releases English songs, Fierce did record several Spanish records that never got released. "Cacafuego" is the only known Spanish song by Fierce which received favorable responses from their Latin fans. 
Fierce began exploring a more alternative approach upon the release of her fifth studio album "Free", which incorporated more freestyle vocalization such as spoken word and many other alternative forms of music composition. 
"Fierce" Criticism & Controversy
Edit
Stephanie Fierce was been criticized a lot for her use of the word "Fierce". Stephanie Fierce's Former Manager stepped up and defended Miss Fierce by saying: "Fierce this, fierce that! It pisses a lot of people off, especially her former enemies. But please understand that while vicious with songs and fashion, Stephanie still is humble and thoughtful. Fierce herself then stated: "I don't feel that I need to bitch to get what I want. That's the easy way. I'll work hard to get what I want and the outcome is even greater, because not only did I get what I wanted, but I didn't have to be a bitch to get it".
While the word has been used or if not over-used many time before in the fashion industry. Stephanie Fierce took the word and made it her own. From the way she used it to the way she said it. Many men and women around the world felt more confident the way Stephanie Fierce said and used the word.
Stephanie Fierce gained even more criticism when she developed her won performing-genre "fierce". Fierce claims that the uniqueness of the voice and sound on some songs of "Diary of a Pop Sinner" and all of the songs on "Stephanie Fierce" makes it its on genre. The statement was well received by musical experts but not by a few rival musicians. Ryan Ross Hernandez stated: "Fierce is now a genre?! No singles?! What the f*ck is wrong with the world?."
Stephanie Fierce's lyrics to the "Plead The Fifth" song was highly criticized by animal rights group PETA for its reference:
"Oh Peta, the God of my four legged friends forgive me for revenging the snake. As soon as I ate the apple fashion made wear shoes that aren't fake." PETA called the lyrics to the song
"shamelessly wrong and disgusting"
.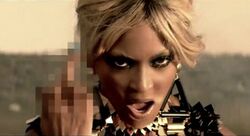 In the Spring of 2010, Stephanie Fierce was falsly announced dead on televison for nearly two weeks, after a dissapereance from the singer. Stephanie Fierce was slated by the media, after her normal re-appereance. At the near end of 2010, the singer was hacked, and announced dead once again on her official website. An image of Stephanie Fierce with the caption "1986-2010" was left on the website for 18 hours, leading many fans to believe the singer was dead.
Achievements
Edit
Stephanie Fierce has been recognized for her amazing impact in Pop music. Pushing the boundaries of music. Winning 3 IMA awards, including "Best Solo Artist" and "Best Album". Stephanie Fierce is one of the very few female pop artists to win "Best Album". Stpehanie Fierce was also the very first artist to win a chaos award for "Best Female Artist". Overall Stephanie Fierce has sold over 200 million records worldwide, making her the best selling pop star of the new decade.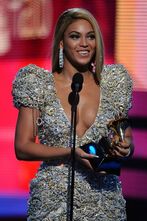 Wins
2009: 18th International Music Awards - Random Award
2009: 19th International Music Awards - Best Solo Artist
2009: 19th International Music Awards - Best Album for Stephanie Fierce: Diary of a Pop Sinner
2010: 1st Chaos Awards - Best Solo Artist
2012: 5th Chaos Awards- Best Single for Back To Fierce
2012: 5th Chaos Awards- Icon Award
Studio Albums
Stephanie Fierce (March 23, 2010)
Newborn (February 14, 2011)
Free (June 28, 2011)
Life's Good (January 29, 2012)
Love is Lust (July 8, 2012) 
Immortal (2013)
Other albumsEdit
The Ultimate Stephanie Fierce Fan Box (April 1, 2010) 
Man Music (E.P.) (December 9, 2012) 
The Time Machine World Tour DVD (December 8, 2009) 
Stephanie Fierce: History Revealed World Tour DVD (2013)
Electric Club Tour (2008-2009)
GirlSpice: One Last Goodbye Tour (As Opening Act) (2009)
Stephanie Fierce: The Time Machine World Tour (2009)
Stepahnie Fierce: The Pop Sinner World Tour (2010)
Stephanie Fierce: The Newborn World Tour (2011)
Stephanie Fierce: The Queen of Pop Era World Tour (2012) 
Stephanie Fierce: History Revealed World Tour (2012-2013)
Album Discography
Edit
Year

Album details

Peak chart positions

US

UK

AUS

CAN

SA

Japan

EUROPE

WORLD

Top 20 Album Charts

2008

Stephanie Fierce: The Past, The Present and the Future of Pop (January 1, 2008)

1

33

20

37

-

4

34

19

-

8x Platinum

2009

Stephanie Fierce: Diary of a Pop sinner (November 17, 2009)

1

1

1

1

1

1

1

1

-

Diamond

2010

Stephanie Fierce (March 23, 2010)

10

3

2

2

2

2

1

3

-

5x Platinum

2011

Newborn (February 14, 2011)

1
3
4
1
1
5
2
1
1
3x Platinum

Free (June 28, 2011)

3
-
-
-
-
-
-
-
3
2x Platinum
2012
Stephanie Fierce: Life's Good (January 29, 2012)
1
-
-
-
-
-
-
-
1

4x Platinum 
Single Discography
Edit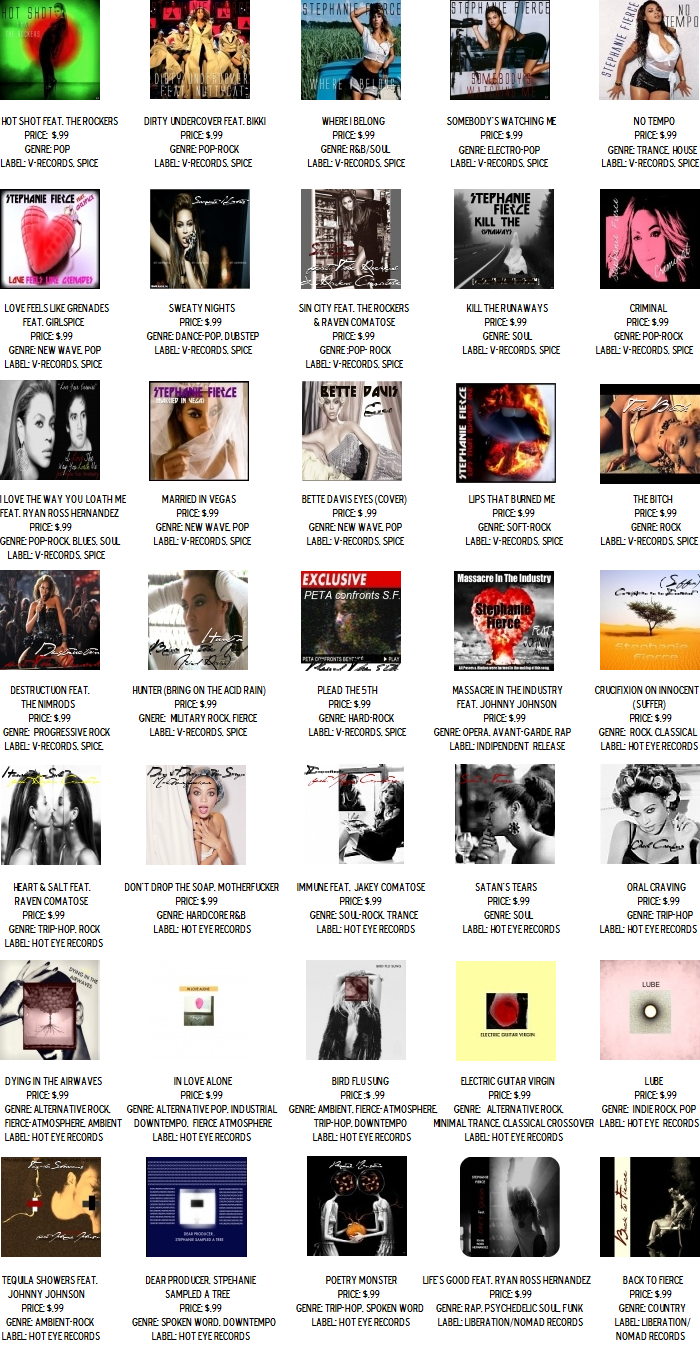 [[Category: ]]