Moronic Changeling is a "madcore" band on Cruz-Bishop Management from Bristol, UK.
Early Life
Edit
The "original three" Moronics - Kaethe van Mouschi, Somerset Bissell and Nickola "Nick" Biggs - met as teenagers. Biggs and Bissell met in a karate class, they later went on to meet van Mouschi in a café. The three became a surprising set of friends, and formed a band, known as "The Complete And Utter Fruits". After writing their first song, the three girls approached James Cruz-Bishop III at CBM, then known as Kirsty Cruz Management, and gave him the demo. "Three dirty girls, with a lyrically terrible song, the guitar even worse than the words," Cruz-Bishop said, "there were so many reasons why I shouldn't sign them. But we had no bands at KCM, Kirsty wasn't around to disapprove, so I signed them. And look where we got to!"
Name Change
Edit
The band changed their name to Moronic Changeling after breakfast one morning - Biggs, who never got on with van Mouschi, was trying to think of new insults for her. She came up with "moronic changeling", Bissell said that it sounded like a great band name (whether it is or not is debatable), and so it was.

Despite only being released in the UK and only selling just shy of 50,000 copies, the band considered first single "Shop Assistant" to be a success. The catchy, cheesy pop song gained them their first following. It is still the most popular Moronics song, and is usually used as an encore at gigs to this day.
"It's the kind of song which you listen to and just can't get out of your head," said Cruz-Bishop, manager from beginning to present. "It's just plain addictive."
The song may be about a male shop assistant, but the cartoon showgirl on the cover became Moronic Changeling's mascot. The outfit that the little faerie is wearing was a favourite of van Mouschi's - Bissell and Biggs covered up more!
The First Line-up Change
Edit
Basically, everyone (bar van Mouschi herself) agreed that van Mouschi couldn't actually play guitar to save her life. They auditioned guitarists left, right and centre, but nobody seemed to fit. It was pure coincidence that got them Justin Jenkins. Biggs and Bissell happened to be out shopping, when they saw the shop assistant in question in the song - daring ninja girl Biggs asked him out for van Mouschi, it just so happened that he could play guitar, and the rest is history!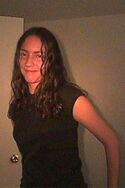 Going from line-up #1 to line-up #2 after just one single may seem like "typical Moronic Changeling" today. Little did they know that Jenkins joining the band would be the first of a long, long list of line-up changes throughout their career.
Someotherday & How Will I Go?
Edit
Two further singles were released with this line-up. The first was "Someotherday" - Cruz-Bishop called this song "the first song they wrote that made any sense". Sophy Catherine Kerry, who would later become a member of the band and is the twin sister of current lead vocalist Bikki Bunney, modelled for the cover of this. The lyric is also supposedly the set of words that got Jenkins to propose to van Mouschi. The second was "How Will I Go?", a song about suicide. Though some say that this was related to the later suicide attempts of Biggs, at the time the band claimed that "it means nothing".
The Album & Moving On
Edit
Main article : Fruitilicious

On the same day as "How Will I Go?", the Moronics' first album "Fruitilicious" was released. Selling just over 300,000 copies, it was considered to be something of a depressing flop.

This was the final release by this line-up. Almost straight after, van Mouschi and Biggs could no longer stand the sight of each other, and Biggs (literally) kicked van Mouschi out of the band.
"Kaethe - you either love her or hate her, big personality," Cruz-Bishop explained. "Nick - hot-tempered, fiery little ninja. The two matched up musically, but they were pretty much made not to get along. How they managed to stay friends for this long is still a mystery to me."
After leaving Moronic Changeling, van Mouschi went on to pursue a solo project, but after this went aboard the failboat, she went on to form the band K.I.C.K.A.R.S.E., which was far more successful. It was time for Moronic Changeling to move on as well - no further singles were released from "Fruitilicious", and they went in search of a new lead singer.
Discography
Edit
Main article : Moronic Changeling discography