Black Forest

Origin

Bergen, Norway

Genre(s)

Black metal (first demos)
Progressive viking metal

Years active

2002-present

Label(s)

Members

Storm - Lead Vocals
Necrontyr - Bass guitar
Infernos - Lead Guitar
Goat - Rhythm guitar
Odiun - Drums
Vanessa - Keyboards

Black Forest is a Bergen, Norway based Viking metal band formed in 2002. Their lyrics deal with Norse Mythology and Tolkien's Middle Earth.
The Early Days
Edit
The band formed after the split of the black/death band Axis. A few years after the split up Storm with Necrontyr decided to form something new. Storm called his old friends from childhood to join the band .
Black Forest recorded two demos (Myrkviðr and Ragnarok). With the raw black metal sound they received some interest from the underground zines and labels. Nearly all songs from the demos were never released after or took place on CDs in a very different version.
Debut Album And Present
Edit
After the release of
Ragnarok
they were offered a record deal by
Malevolent Creations
Records. Soon after they released their debut album
The Frostbitten Saga
that gained varied replies from zine's.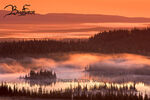 The raw sound slightly changed to a more hi-fi polished sound. With use of melodic progressive riffs, synths, keyboards and such instruments as flutes,violins and langeleiks.
Recently the band released their long awaited new album The Shadow Rises that lyrically is based on Middle Earth.
Discography
Edit
Main Article: Black Forest discography